Magnificent oil painter, megalomaniac, devoted husband, exquisite jeweler, bizarre film creator, sculptor, narcissist, multi-millionaire…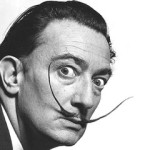 SALVADOR DALÍ
1904-1989


Dalí: "I am the first to be surprised and often terrified by the images I see appear upon my canvas."
The surreal art world exploded with the arrival of Salvador Dalí in Paris in 1926. Calling his paintings "hand-painted dream landscapes," Dalí painted streams of consciousness, intense feelings and above all, his dreams.
PAINTING
Some art scholars believe that Dalí's melting clocks may symbolize Albert Einstein's groundbreaking theory of relativity, a new and revolutionary idea back in the culture of the 1930's. Through the theory of relativity, Einstein proposed a new concept of time as being relative and complex–not something fixed and easily tracked with as crude a gadget as a pocket watch. Time is melting.
SCULPTURE
The Lobster Telephone is one of Dalí's most startling and unsettling creations. The simple placement of two unrelated objects together – a lobster on a traditional phone receiver – turns the everyday device into something surreal, making it strange but fascinating. The telephone works, but would you pick it up?!
JEWELRY
With his wicked sense of humor and desire to baffle his public completely, Dalí designed wildly imaginative jewelry and very fine jewelry indeed.  A watch is set with a ruby, diamonds and enamel. The eye is a finely crafted Swiss timepiece.
Salvador Dalí: "Every morning upon awakening, I experience a supreme pleasure: that of being Salvador Dalí, and I ask myself, wonderstruck, what prodigious thing will he do today, this Salvador Dalí."
Video: The Chaos of Salvador Dalí. Three minutes of Dalí, his art and escapades, narrated by Robert Foxworth, award winning actor and director. Click here if you are unable to view the video