Ever wonder how to best show your art…those pieces you have lovingly collected over the years? Top San Francisco designer, Linda Applewhite, presents 3 terrific ideas!
Linda Applewhite's Design Tips
Play With Color and Texture
To make artwork stand out in a room! Combine neutral toned art with a colorful interior as in this San Francisco loft. The black and white artwork, Street Scene, by Danish artist Gugger Petter pops amidst the reds, blues, golds and green, yet relates beautifully with the textured shag checkerboard carpet.
Good Design Repeats Itself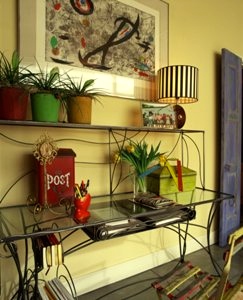 Make artwork come alive! This Joan Miró lithograph, Trace #5, hanging above the custom made desk relates in feeling and movement to the desk. A powerful statement when teamed together.
Hang Artwork to Create Harmony and Surprise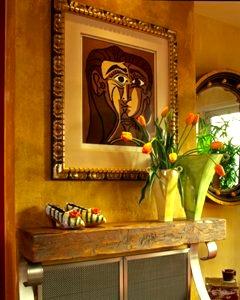 This linocut, White Eyes, by Pablo Picasso looks stunning over the fireplace surround. The pairing of the elegant Spanish gold leaf frame and rustic wood mantle offer an interesting juxtaposition while the colors in the wood and artwork sing to one another.
Linda Applewhite is an artist, writer, spokesperson and renowned interior designer based in San Francisco.
To see more of Linda Applewhite's design work visit her website at www.lindaapplewhite.com