Impressionist Artist and Painter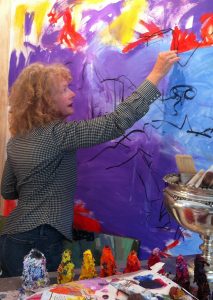 Kirby Kendrick is a professionally trained artist specializing in Southwestern, Contemporary, and Impressionist paintings, drawings, multi-media, and installation. A graduate of the New York Studio School, Kendrick has also studied under Tom Noble, Elias Rivera, Graham Nickson, and Sam Scott. Kendrick has received numerous awards and recognition during her career as a professional artist, including the Award of Excellence at the 2008 San Diego 50th International Award Exhibition. Her work is also featured on permanent exhibition at the San Diego Museum Of Art.
From my first paintings using Crayolas to graduating from New York Studio School in Greenwich Village, New York, living in Santa Fe, New Mexico, and San Diego California, and becoming an impressionist artist, I have been on a journey filled with passion and adventure.
Twenty years ago, I was diagnosed with breast cancer. While still hospitalized, an impressionist painter friend casually gave me a package of six Crayolas and a sketchbook. I began painting the only colors I found..the occasional flower and doctors' neckties! I discovered a deep and abiding love of color and a desire to create more.
Home again, I proceeded to unabashedly paint the walls of my Santa Fe adobe home in the patterns of Matisse—impressionist painter extraordinaire. When my walls were covered, I moved onto a canvas and came to study with Elias Rivera, as well with Sam Scott. Eventually, I moved to New York City for 3 years of classical training with Graham Nickson at The New York Studio School.
For me, it enriches my soul to respond to the beauty and even the strange awkwardness found in people and landscapes. The object of painting a picture is not to merely make a picture. Rather, the picture by an impressionist painter is the product of those moments of experiencing this beauty and strangeness. It is the moments of the human experience that intrigue and astonish me.
As an impressionist artist, my passion is to capture on canvas the truth of these moments with their grace, drama and sometimes despair. I find fascinating the poetic nature in our world and life. I also seek the courage, as an impressionist painter, to go on developing this ability to see in nature the thing which charms me and to then express it as fully and completely as I can.
Shows and Events
The Gallery Collection
La Posada de Santa Fe Resort and Spa
330 East Palace Avenue
Santa Fe, New Mexico   87501
www.laposadadesantafe.com
Bio
Education
Southern Methodist University, B.A.
Graduate of New York Studio School, 2000-2004
Studied under Graham Nickson, Elias Rivera, Sam Scott, & Tom Noble, 1995-1999
Museums
San Diego Museum of Art permanent collection
Karpeles Manuscript Museum, Santa Barbara, CA, 2009
Dallas Museum of the Arts, Dallas, Tx, 1999
National Cowboy and Western Museum of Art, Oklahoma City, OK, 1998
National Museum of Women in the Arts, Washington, D.C., 1998
Galleries
La Posada de Santa Fe, Santa Fe, NM, 2012-Current
Sylvia White (Emerging Artist) Gallery, Ventura, CA, 2009
Anarte Gallery, San Antonio, TX
New York Studio School Gallery, New York, NY, 2004-2001
Exhibitions
Oceanside Museum of Art Exhibition, CA – 2019, 2018, 2017
San Diego Art Institute Juried Exhibition, CA – 2019
Studio C PAISANOS USA Traveling Exhibition – 2019-2018
L'Atelier Gallery Juried Exhibition, San Diego, CA – 2019
Athenaeum Museum Annual Juried Exhibition, La Jolla, CA – 2018, 2013
Pastel Society of America Annual Open Juried Exhibition, New York, NY – 2018, 2008
Las Laguna Gallery Exhibition, Laguna Beach, CA – 2018
San Diego Mesa College Art Gallery Exhibition, CA – 2018
San Diego Watercolor Society International Exhibition, CA – 2017, 2015, 2014, 2009
National Watercolor Society Exhibition, San Pedro, CA – 2017
Art On 30th Gallery Exhibition, San Diego, CA – 2017
L Street Fine Art Gallery "Go Figure" at the Omni Hotel San Diego, CA – 2015
Los Angeles Art Association Artist Screening Exhibition, Eat At Art video, CA – 2016
Art Scene Today International Online Exhibition – 2013
National Weather Center Biennale, Norman, OK – 2013
Art San Diego Contemporary Art Fair, Juried Artist, San Diego, CA – 2013, 2012
San Diego International Exhibition – 2012, 2010, 2009, 2007
KA-POW! Gallery Expo, Long Beach, CA – 2011
KA-POW! Solo Exhibition Presentspace Gallery, Portland, OR – 2011
Katharine Lorillard Wolfe Art Club Annual Open Juried Exhibition New York, NY – 2011, 2010, 2006
San Diego Art Institute, Solo Exhibition, CA – 2010
San Diego Museum of Living Artist, California Regional Awards Exhibition,  – 2010
Karpeles Manuscript Museum, Santa Barbara, CA – 2009
Louisville Arts Association, 24th Annual Fine Arts Exhibition, Louisville, CO – 2009
Clatsop College International Juried Exhibition, Astoria, OR – 2007
San Diego Museum of the Living Artist, So. Cal. Regional Show, San Diego, CA – 2007-2004
Friends of Contemporary Art, Santa Fe, NM – 2005
New York Studio School Gallery, New York, NY – 2001-2004
Dallas Museum of the Arts, Dallas, TX – 1999
Bank of Santa Fe, Santa Fe, NM – 1998
Friends of the Museum of Contemporary, Santa Fe, NM – 1998
National Cowboy and Western Museum of Art, Oklahoma City, OK – 1998
National Museum of Women in the Arts, Washington, D.C. – 1998
Awards
Athenaeum Museum Video Exhibition, Award – 2015
San Diego Watercolor Society International Exhibition, 4th Place – 2015
San Diego Watercolor Society International Exhibition, 3rd Place – 2014
San Diego 50th International Exhibition Award of Excellence – 2009
Public Works Projects, San Diego, Finalist – 2008
Juror's Choice San Diego Museum of Living Artist, California Regional Show – 2008
San Diego Museum of the Living Artist, California Regional Show, Honorable Mention
San Diego 49th International Award Exhibition, Merit Award – 2007
Publications
San Diego Art Institute Journal, 2014, 2013
KFOR-TV NewsChannel 4, Oklahoma City, OK, 2013
San Diego Art Institute Journal, 2013
Presidio Sentinel News, San Diego, CA 2012
Baudelaire at the Gallery, Solo Show "KA-POW!" review, 2010
"Santa Monica" by Jeffery Crussell, 2010
"New Art International" Magazine, 2005
Feed Thy Sheep Cookbook, 1999
Chamisa Ridge Catalog, 1998
Public Works Projects
San Diego – North Park, 2008
Contemporary Art
Contemporary Art is defined as work produced in the late '60s and early '70s and beyond. It is a diverse medium and painters and sculptures have great leeway when it comes to experimenting, creating, and defining their own particular niche.
The world of creative expression is big enough for all flags to fly. Contemporary art paintings have evolved with imagination and courage. As Beethoven said, "Art! Who comprehends her?" These works can evoke shock, awe, and a sense of protest. Additionally, these types of works are painted in diverse styles including graffiti and can be eclectic or traditional. My creations in this area reflect the world I see. When I paint spots of color truly and sincerely, these spots of color begin to organize themselves into contemporary art paintings.
I refuse to see details and let the larger form take the lead! Color makes this form. Two of my mentors, Elias Rivera and Graham Nixon stress this approach to these types of works. Their large, Giotto-like forms are layered in color and shimmer with light and movement. This movement enchants me. Our eyes see something that looks solid and stable. Yet, we know from quantum physics, that this is not so—these "stable" forms are moving. These forms are actually a collection of condensed atoms in constant motion.
Contemporary art paintings capture this motion. When I hold the brush to the canvas, somehow I sense this motion and I begin to make my marks. And that is why my painting is about marks and movement. Some of the marks are awkward, some graceful, some ominously dark, and some marks a startling charm of color. It is exceedingly important to me that I capture this puzzling motion in my creations.
KA-POW! Installation
I fell in love with Renaissance art. Then I fell in love with icons…all kinds of icons from religious to comic. What's happening? Where is the relationship? This installation is the delight in finding that relationship. Piero della Francesca's elegant geometry and Olive Oyl's awkward angles. Boticelli's allegories and Our Lady of Guadalupe's mysticism. Mantegna's hard-edged monumentality and the bigger than life, tough Dick Tracy. All awake us to the ancient with us today. Nothing is lost, just layered.
Southwest Art
Southwestern Art From traditional American Indian symbols and images to works that evoke the heart and soul of the South West region and the people that inhabit it, this type of work is diverse in both scope and expression. The petroglyphs, cliff drawings, and preserved pottery of the Navajo people have inspired many artists for generations. Warm colors such as shades of red, yellow, and orange, as well as earth tones, are commonly seen in this type of medium.
Southwest art gets in your heart and mind when living in the midst of it. The traditional Taos artists and their Southwest art paintings are a compelling influence on my work. The gorgeous scenery and exotic inhabitants, as seen through my eyes, must be expressed on canvas. The majestic landscape, the traditional adobe houses, and the ever-changing light give me, as an artist, a passionate desire to paint within the distinctive pastoral theme. Always interesting are the textiles of the area. The patterns of the rugs and pottery are absolutely abstract and are thrilling to paint. In my Santa Fe New Mexico, studio, it is an honor to use the Native American textiles.
One of my recent works is a large canvas of a Navaho Indian. In the background of the painting are the fiery colors found in the Taos art paintings. Additionally, the religion of the people in the Southwest region is engrained within their life and culture. Therefore, the little, hidden mountain churches with their crumbling adobe and humble and sacred Christian icons are reverently painted in my work.
My mentors for this style are Victor Higgins, Earnest Blumenschein, Herbert Dunton, Irving Couse, and in more recent time, Jim Wagner and Tom Noble. These artists celebrated nature with all its integrity. The light in their works is brilliant and the shadows deep with color. These artists' heart and mind shine through their paintings and so my heart and mind joyously follow!